Alexandra Horowitz teaches psychology at Barnard College, Columbia University. She earned her PhD in Cognitive Science at the University of California at San Diego, and has studied the cognition of humans, rhinoceros, bonobos, and dogs. For seventeen years she shared her home with an unwitting research subject, Pumpernickel, a wonderful mixed breed. Before her scientific career, Horowitz worked as a lexicographer at Merriam-Webster and served on the staff of The New Yorker. She lives in New York City with her husband, young son, and Finnegan, a dog of indeterminate parentage and determinate character. Her latest book, On Looking: Eleven Walks with Expert Eyes, was published January, 2013.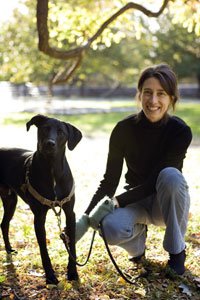 Links
Academic page (Barnard College)
Recent news and writing
The New Yorker magazine (by and about)
Science magazine
Time magazine
ABC's "Nature's Edge" (video features Finnegan)
Foreword for Barbara Karant's "Small Dog, Big Dog"
See my academic site for other recent writings
For Pump, always